André Sihm (アンドレ・シム) is a parkour instructor whom competed in Ninja Warrior Sweden. In the first series, Sihm made his way to the finals where he was one of many that failed the Unstable Bridge during the First Stage.
He returned for the second Swedish series, making it to the finals once again where he failed the Cliffhanger, but became the Last Man Standing which granted him an invite to compete in SASUKE just like Alexander Mars.
At SASUKE, all his runs were digested. He wore number #85 and cleared both the First and Second stages with ease. At the Third Stage, he failed the Sidewinder R Kai when he tried to make the last transition. Despite that, he came impressively in fourth overall in that tournament.
Photos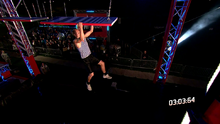 Sihm attempting the Unstable Bridge during the first Swedish finals.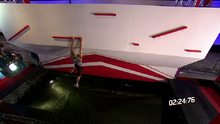 Sihm at the Cliffhanger during the second Swedish finals.
Results
| SASUKE | # | Result | Notes |
| --- | --- | --- | --- |
| 32 | 85 | Failed Sidewinder R Kai (Third Stage) | |
Ad blocker interference detected!
Wikia is a free-to-use site that makes money from advertising. We have a modified experience for viewers using ad blockers

Wikia is not accessible if you've made further modifications. Remove the custom ad blocker rule(s) and the page will load as expected.