Adam Rayl is a Concrete Worker from Phoenix, Arizona. Rayl first attempted to compete on American Ninja Warrior as a walk-on in Kansas City in American Ninja Warrior 7, but was unsuccessful. He later went as a walk-on in American Ninja Warrior 8 and got accepted into Los Angeles.
His run in qualifying was cut, but he was one of the many competitors that failed the I-Beam Cross. Rayl got there fast enough to earn a spot in the top 30, in which he placed 20th overall. In the city finals, he failed The Wedge but he placed 6th overall in the top 15.
In Vegas, he was one of 17 competitors that finished Stage 1, finishing with 4.74 seconds left on the clock. During stage 2, he became the first competitor of the night that cleared the Down Up Salmon Ladder but he failed the third obstacle, the Wave Runner. Rayl emerged as the final walk-on competitor by the end of the season.
Adam returned again to compete in LA in American Ninja Warrior 9 where he completed the qualifying course with the second fastest time of the night.
In the city finals he was one of four competitors in the LA finals to finish the course. He finished the course placing 2nd. Overall, Adam was one of just nine athletes that completed a city finals course that season.
In Vegas, he had a slip-up in Stage 1 on
Parkour Run
, but pushed through and cleared the course with 20.40 seconds left. In Stage 2, he started strong but failed the dismount on
Wingnut Alley
, losing his grip at the end.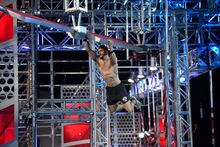 Adam returned in American Ninja Warrior 10 in LA once again. In qualifying he was the final runner of the night and was one of 10 athletes to clear the Doorknob Drop and complete the course. In addition however, Rayl managed to scale the Mega Warped Wall and earn $10,000. He became one of only six competitors that season do so.
Along with this, he returned in city finals where he had a small scare on the Giant Cubes, almost losing his grip on the first cube. Despite this, he barely managed to complete it and ultimately had no trouble finishing the rest of the course. The run WAS digested. Rayl ultimately placed 6th overall.